Crabby Jim's
More and more people are saying Crabby Jim's is the place for clam chowder on the Wharf. With chunks of clams, carrots, potatoes and celery, our chowder passes the Wharf taste test, and brings people back for more. Warm up next to our cozy fireplace on cold days. Our excellent views of the Monterey Harbor allow you to enjoy Crabby Jim's seafood while watching the sea lions and other harbor life. For starters, try the Mussel and Clam appetizer, then a Coconut Crusted Halibut with Mango Salsa for a little something different. If Fish and Chips is what you crave, we have that too. Not hungry for seafood? No problem, we offer Italian and Mexican cuisine, and our steaks are delicious!
Cuisine: Seafood, Steaks, Italian, Mexican
Contact Info:
25 Old Fisherman's Wharf, Monterey, CA 93940
Monterey, CA 93940
Tel: (831) 372-2064
http://crabbyjim.com
Payment Types Accepted:
Cash, All Major Credit Cards
Reservations Accepted:
Yes. Call (831) 372-2064.
Private Parties:
Yes.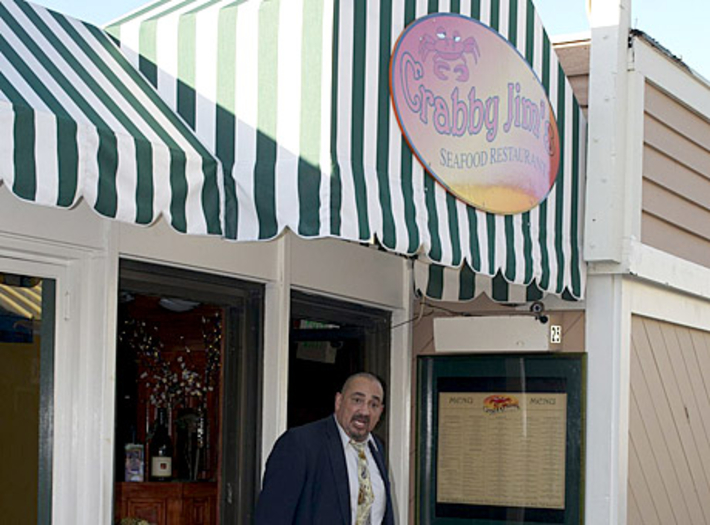 Top 6 Featured Items
Pistachio Crusted Salmon
Pan Seared Jumob Scallops over Vegetable Linguini
Seafood Paella
Blackened Ahi Tuna Salad
Blackened Pacific Salmon with Avocado
Cajun Sausage Prawns over Penne Pasta
www.crabbyjim.com