THERE ARE MANY GREAT UPCOMING EVENTS DESCRIBED BELOW...SOME ARE ON THE WHARF ITSELF AND SOME ARE HELD NEAR THE WHARF.
Click On Links Below!
'Tis the season! Holiday Hours vary by merchant but there will be restaurants and stores open on upcoming holidays and other businesses as well! Some merchants are open 365 days a year and the Wharf is always a beautiful place to visit any time of day or night. Our holiday decor will be especially dazzling this year and will be up until January 6th. And, it's always fun to stroll the Wharf and see the marine life. Please feel free to call any business (see phone numbers on the website pages) to obtain their individual hours during the upcoming holidays! We look forward to seeing you soon! Happy Holidays!
Please note! There will be 2 hours free parking for Monterey County Locals with ID this year through December 24, 2018, courtesy of the City of Monterey.
UPCOMING WHARF EVENT Click here: JANUARY 26 & 27, 2019: 9TH ANNUAL WHALEFEST MONTEREY
(MORE DETAILS ABOUT MANY GREAT NEARBY LOCAL EVENTS BELOW LISTED BY EVENT DATE)
ARE YOU LOCAL & LIVING IN MONTEREY COUNTY?
2 HOURS FREE PARKING FOR LOCALS MONDAY-THURSDAY WITH MONTEREY COUNTY ID.
COURTESY OF THE CITY OF MONTEREY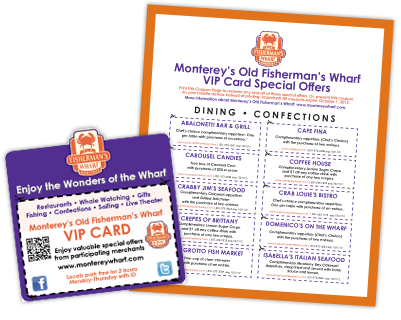 DOWNLOAD OUR "WONDERS OF THE WHARF VIP CARD" BEFORE YOU VISIT MONTEREY'S OLD FISHERMAN'S WHARF AND ENJOY 23 SPECIAL MERCHANT OFFERS!
MANY UPCOMING EVENTS ON MONTEREY'S OLD FISHERMAN'S WHARF