T

HERE ARE MANY GREAT UPCOMING EVENTS DESCRIBED BELOW...SOME ARE ON THE WHARF ITSELF AND SOME ARE HELD NEAR THE WHARF.
Ride the free MST Trolley to the Wharf from the East and West Garage and many other convenient stops. MST Trolley details

click here.
DAILY MST TROLLEY HOURS EXPANDED FOR THE HOLIDAYS! NOVEMBER 23RD - DECEMBER 1ST EXCEPT THANKSGIVING AND THEN DECEMBER 21 - JANUARY 5TH, EXCEPT CHRISTMAS DAYS!
THERE ARE LOTS OF NEARBY LOCAL EVENTS TO ENJOY AND SOME FUN FREE EVENTS ON THE WHARF, TOO. PLEASE BE SURE TO SAVE THE DATE FOR OUR KEY WHARF EVENTS - CLICK ON EVENT DATE BELOW:
THE WHARF IS OPEN DURING THANKSGIVING WEEKEND DAILY!
Take advantage of 2 hours free parking for locals with Monterey County ID - November 29-December 24, courtesy of the City of Monterey!)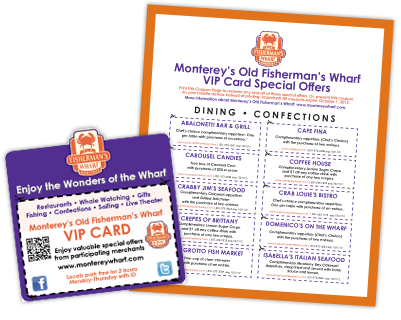 DOWNLOAD OUR "WONDERS OF THE WHARF VIP CARD" BEFORE YOU VISIT MONTEREY'S OLD FISHERMAN'S WHARF AND ENJOY 23 SPECIAL MERCHANT OFFERS!
MANY UPCOMING EVENTS ON MONTEREY'S OLD FISHERMAN'S WHARF