History
It has seen bales of Chinese silks and barrels of Spanish wine,
whaling ships, Navy cutters, and fishing boats by the score;
Fisherman's Wharf, in its various incarnations,
has been the focus of Monterey's economic life for centuries.
1600-1800's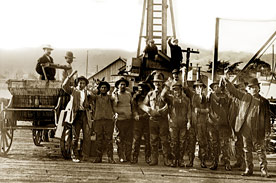 In 1602 the Viceroy of New Spain, the Conde de Monterey, delegated Sebastian Viscaino, mariner and merchant, to explore the western shore of California. Viscaino was to prepare a detailed map of his findings, and to look for a harbor-haven for the Manila galleons which brought the elegant goods from the Philippines to the Pacific shores. Viscaino landed in Monterey that year and named the harbor after the Count of Monterey. In 1769 Spaniard, Gaspar de Portola was sent north and in 1770 located Monterey Harbor and the ultimate City of Monterey was founded. California remained under Spanish control with Monterey as its capital until 1822, when Mexico added California to its empire. After war broke out between the United States and Mexico in 1846, Commodore Sloat, on landing in Monterey, claimed California for the Union.
Thus, the Marina, Old Fisherman's Wharf and Municipal Wharf II lie in some of the most historic waters in California.
In 1845 Thomas Larkin constructed a wharf at Monterey for regular passenger and freight service, with ships arriving four times weekly. Growth of the sardine industry and the need to keep the Wharf in better repair prompted the City Council to assume ownership of the pier in 1913. (At some time during this period it became known as "Fisherman's Wharf")
Early 1900's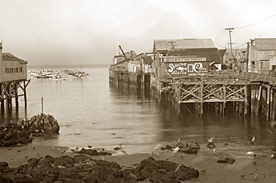 By 1916 the City had purchased the Wharf and immediately began to expand the Wharf, providing more services to the fishing fleet and to the freight business. By 1920 the Wharf served as location for warehouses, nearly 20 wholesale and retail fish outlets, a marine service station, a restaurant, and an abalone shell grinding business.
On March 3, 1923, the largest load of sardines ever to be shipped from Monterey, 20,000 cases, was on Fisherman's Wharf ready to be loaded on the S.S. San Antonio. The weather was bad and the San Antonio leaned too heavily onto the Wharf timbers, causing 132 feet of the pier to collapse and spilling 10,000 cases of sardines into the harbor. In Wharf reconstruction which followed, 750 feet were added, and a finger pier was built extending eastward from the Wharf. A marine service station was also added. In 1925 City officials started a drive for the construction of a new cargo Wharf to meet increasing commercial fishing demands and to relieve congestion on Fisherman's Wharf. Bonds were voted in and a new Wharf (Municipal Wharf II) was completed in 1926. In 1929 Congress appropriated funds for the construction of the present breakwater. The breakwater and its 400-foot extension was completed in 1934.
1940 - 1960's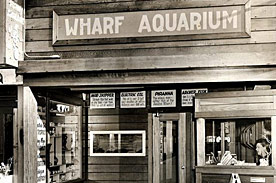 During World War II the character of the wharves changed only slightly. When sardines began to disappear after World War II, Fisherman's Wharf converted to a tourist-oriented operation. By 1956 the users of Fisherman's Wharf included restaurants, gift and candy shops, a theater, an aquarium, snack bars, boat rental businesses, fish markets, marine machine shops and a marine service station. Wharf II was still serving the wholesale fish businesses.
In the 1950s the demand for a small craft harbor or marina became increasingly urgent. In 1957 construction of a new marina was placed on the ballot, but divided Monterey citizens failed to approve the project until a 20-year, low-interest loan for half the construction cost was obtained from the State. Construction began in 1959. Upon completion in 1960, the Marina provided 367 berths at a construction cost of slightly over $600,000. A protective sea wall extended from Wharf II to the Marina entrance next to Fisherman's Wharf. The Monterey Municipal Marina was dedicated on September 11, 1960. The berthing facilities were constructed by Granite Construction Company of Watsonville, CA. The launching ramps were added in 1962.
1970 - Today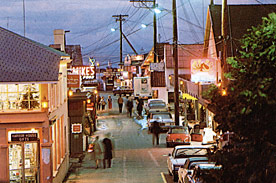 In 1969 a new loan of $325,000 from the State was provided to finance the construction of an additional bulkhead wall, a promenade and additional parking spaces in the Marina area. G tier with 29 berths was added in 1975.In October 1996 a $5,000,000 Marina reconstruction project was finished. New, wider concrete docks and a handicapped accessible ramp were added. A low-interest loan from the State Department of Boating and Waterways made the project possible. The City of Monterey plans to continue to improve services to customers and public access to Monterey Bay.
Fisherman's Wharf has continued to adjust to the ever-increasing visitor trade. A visit to the beautiful Monterey Peninsula today just isn't complete without a rendezvous with Old Fisherman's Wharf in downtown Monterey. Known as the "Whale Watching Capital of the World" and a top destination of about 4 million visitors from around the world each year, Monterey's Old Fisherman's Wharf provides a wide array of award-winning dining, shopping, special events, and strolling leisurely in a gorgeous setting overlooking the Monterey Bay. Monterey's Old Fisherman's Wharf features 13 restaurants, 3 candy shops, 8 gift shops, 4 whale watching firms, 2 fishing companies and sailing, glass bottom boat rides, Bay cruises, fish markets and the Wharf Theatre. Savor delicious cuisine at a myriad of fabulous restaurants featuring stunning views and award-winning Italian food, sustainable seafood, steaks including the region's famous clam chowder and calamari. The Wharf was also a main location for the filming of the hit HBO series, Big Little Lies, Season One.
Enjoy salt water taffy, homemade chocolates, caramel apples, cotton candy and many other yummy treats. View sea otters, sea lions, dolphins, whales, sea birds and other wildlife up close and personal that also share the Wharf. Watch people who have gone out and caught their own fish on the local and chartered fishing boats return with their own "catch of the day". Celebrate the first location in Monterey County where tender abalone was cooked and served in a restaurant. Check out the many fun shops to find the perfect memento of your visit and a variety of unique gifts. Bring your friends, family, and dogs (on leash) for a wonderful visit from morning to evening. Enjoy the exquisite views and the "best place to walk and people watch" in Monterey County.
Learn more about the history of crabbing and fishing on the Monterey Bay during the 1st Saturday monthly Wharf Walks with Maritime Historian Tim Thomas. For more details, see our Events page on montereywharf.com.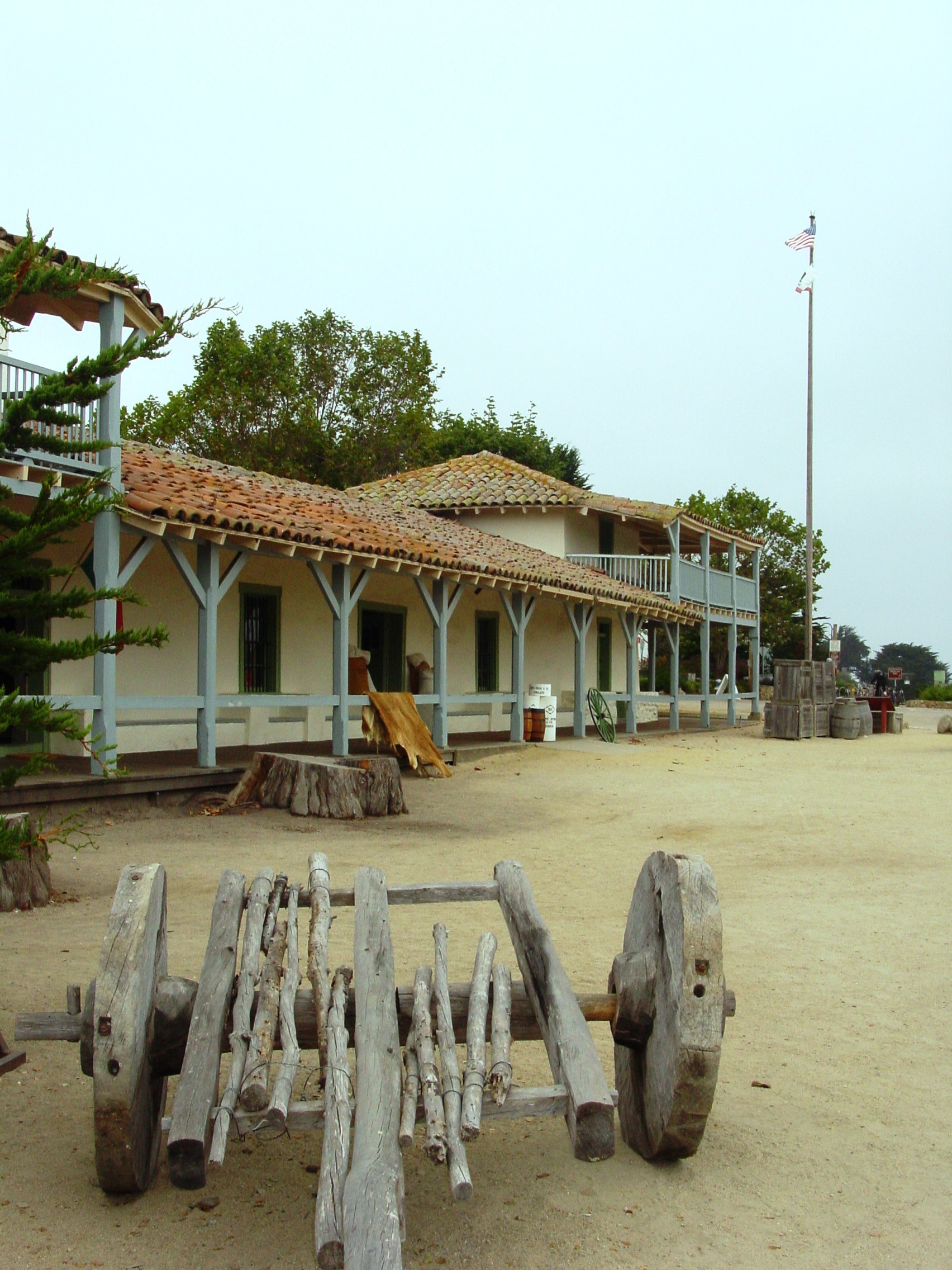 Custom House - Photo Copyright CA State Parks
Monterey State Historic Park
Step into the Past via the "Monterey Walking Path of History" at Monterey State Historic Park. The park is a collection of significant historic houses and buildings interspersed throughout Old Monterey. Directly adjacent to Old Fisherman's Wharf is the Custom House, the first government building in Monterey, as well as the nearby Pacific House, Memory Gardens, First Brick House, Old Whaling Station, California's First Theatre and much more! For more information, go to www.parks.ca.gov/mshp.