Old Fisherman's Grotto
For over 50 years, the Shake family has run the Old Fisherman's Grotto - the Wharf's premier restuarant. Our menu features fresh seafood, Certified Angus steaks, Italian pastas, fresh-made desserts, and award-winning wines. With elegant ambiance, a beautiful view, and outstanding cuisine, Old Fisherman's Grotto is the most recommended seafood and steak house on Fisherman's Wharf.
Cuisine: Seafood, Italian, Steaks, Fish Market ,Seafood & Steaks
Contact Info:
39 Old Fisherman's Wharf
Monterey, CA 93940
Tel: (831) 375-4604
http://www.oldfishermansgrotto.com
Reservations Accepted:
Yes. Call (831) 375-4604.
Private Parties:
Yes.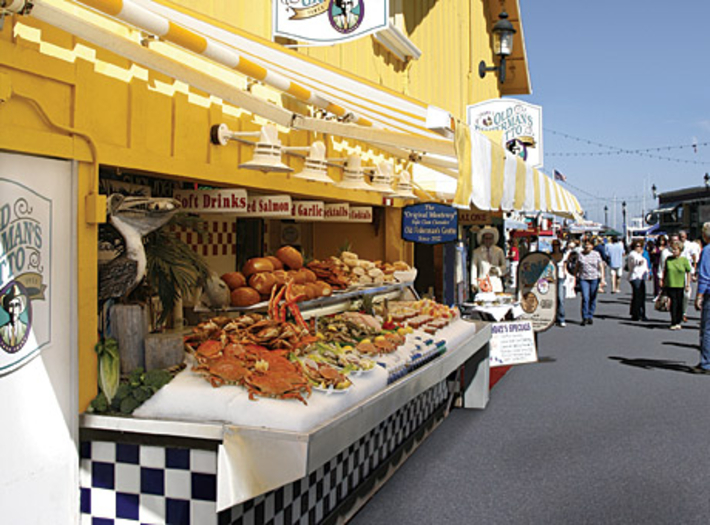 Top 10 Featured Items
Award-winning Original "Monterey Style" Clam Chowder
Fried Calamari - a Grotto favorite
Seafood Paella with Chorizo - shrimp, clams, mussels, fresh fish and scallops
Bouillabaisse - a stew of fresh fish, shellfish and vegetables
Cioppino - a variety of crab, shrimp, clambs, mussels and fish
Dungeness Crab - served either steamed or chilled
Lobster Tail - 10 oz lobster tail oven broiled
Macadamia Crusted Halibut - grilled west coast halibut crusted with macadamia nuts
Filet Mignon - charbroiled USDA choice Black Angus Tenderloin of beef
20 oz. Porterhouse Steak - topped with melted Gorgonzola cheese
About Our Food
At Old Fisherman's Grotto, we specialize in fresh sustainable seafood, Certified Angus steaks, Italian pastas, fresh made desserts, an extensive appetizer list, and an award-winning wine list. Our "Monterey Style" clam chowder has consistently been voted Best Clam Chowder in the Monterey Weekly Reader Polls and was recently voted First Place Winnder in the West Coast Chowder Competition.