91st Annual Festa Italia
Event Date:
Sep 6 - Sep 8, 2024 at 10:00 AM - 9:00 PM
Location: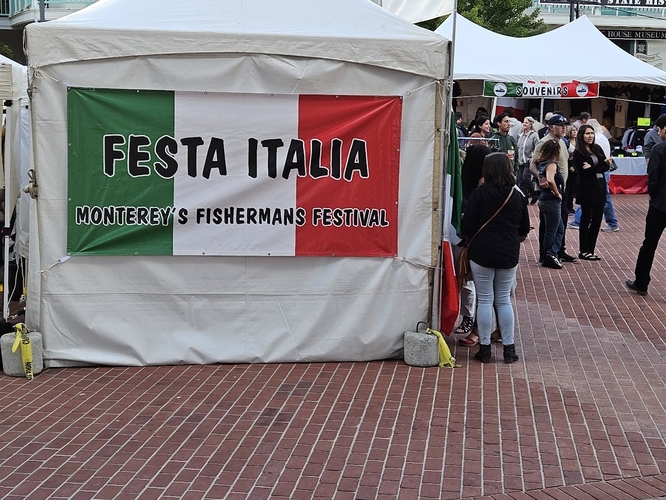 ---
91st Festa Italia to Return to the Custom House Plaza – Monterey State Historic Park in Downtown Monterey on September 6th – 8th, 2024
(Note - each day has different event hours.)
Monterey, CA. November 2023. The 91st Annual Festa Italia is set to captivate the community, inviting all to join in the festivities honoring the city's Italian heritage and the indelible contributions of its local fishermen, past and present.
This beloved family-friendly free event, known for its immersive experience of Italian sights, sounds, food, and culture, provides a memorable celebration for attendees of all ages. Drawing both locals and visitors from the Bay Area and beyond, the festival has become a cherished tradition that highlights the essence of the Italian experience.
Scheduled over three days, Festa Italia offers an array of authentic Italian cuisine, accompanied by great music, lively dancing, and an abundance of fun and friendship. Attendees can indulge in the delectable flavors of Italy, with a tempting selection of culinary delights available for purchase. From mouthwatering Calamari to savory Steak and Sausage Sandwiches, Pasta, Arancini, and delicious Cannoli, the festival promises a gastronomic journey that mirrors the rich tapestry of Italian culinary excellence. To complement the experience, a variety of beverages, including wine, beer, sodas, and water, will be available.
In addition to the culinary offerings, attendees can check out all of the collectible Italian and Festa Italia-themed merchandise. Attendees will also enjoy visiting a diverse array of vendors showcasing unique crafts, clothing and more.
The roots of Festa Italia trace back to 1933 when the inaugural celebration took place, marked by the donation of a statue of Santa Rosalia, the patron saint of Sicilian fishermen, to the San Carlos Cathedral. This tradition began as Sicilian fishermen sought the blessings of their patron saint for safe journeys and bountiful harvests. Festa Italia serves as a testament to the importance of preserving cultural heritage and passing it down to future generations.
In the spirit of honoring our roots and keeping our cultural stories alive, Festa Italia invites everyone to partake in this joyous and festive event. Embrace the traditions of old and new, ensuring that our shared heritage is not merely remembered but celebrated with enthusiasm.
Mark your calendars for the 91st Festa Italia, where the spirit of Italy comes alive in Monterey. Everyone is welcome to join in this cultural extravaganza and free, fun event!
At a Glance:
What: 91st Festa Italia held by the Festa Italia Foundation, a 501(c)3 non-profit organization
Festival Entry Cost: Free
Where: Custom House Plaza – Monterey State Historic Park, Downtown Monterey
When: Friday – Sunday, September 6-8, 2024
Friday, September 6th – 3 pm – 9 pm
Saturday, September 7th – 10 am – 9 pm
Opening Ceremonies and Procession to Old Fisherman's Wharf for the traditional blessing of the fishing fleet followed by live entertainment and all event activities.
Sunday, September 8th – 10 am – 6 pm
Where: Custom House Plaza – Monterey State Historic Park, Downtown Monterey
Entertainment (to be announced)
Bocce Tournament – Saturday and Sunday, September 7th and 8th at the bocce courts at the Custom House Plaza – Monterey State Historic Park
Tickets are sold for raffles for a variety of prizes (need not be present to win)
Information: (831) 633-4444 or email [email protected]
Additional information and updates will be posted on the website: www.FestaItaliaMonterey.org