Below is our current list of events.
Please note that Old Fisherman's Wharf is Open for strolling safely with social distance and masks...and some of our restaurants are offering To Go Curbside at the head of the Wharf -- Old Fisherman's Grotto, Scales On the Go, Crabby Jim's, Crab Louie's Bistro, Cafe Fina, Domenico's on the Wharf, Abalonetti's Bar and Grill and Crab House. Take Pacific Street to Scott Street and bear left to Olivier Street to the end of the street which takes you to some parking spaces for curbside pick up. Free parking is available to everyone in the Wharf's Waterfront Parking Lot. Take a walk along the Wharf while keeping your social distancing and enjoy some beautiful views of the Monterey Bay!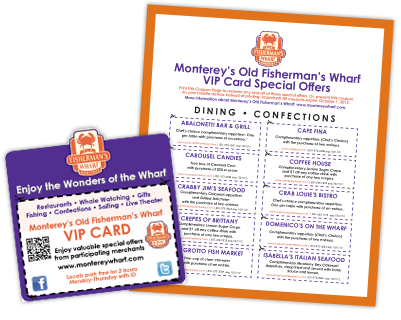 DOWNLOAD OUR "WONDERS OF THE WHARF VIP CARD" BEFORE YOU VISIT MONTEREY'S OLD FISHERMAN'S WHARF AND ENJOY 23 SPECIAL MERCHANT OFFERS!
MANY UPCOMING EVENTS ON MONTEREY'S OLD FISHERMAN'S WHARF