THERE ARE MANY GREAT UPCOMING EVENTS DESCRIBED BELOW...SOME ARE ON THE WHARF ITSELF AND SOME ARE HELD NEAR THE WHARF.
NOTE: Wharf Parking is limited due to construction at this time. Please park in the nearby City of Monterey's West or East Garage. Entry to the garages is from the LEFT lane on Del Monte coming from Highway 1. Look for signs. Click here
Ride the free MST Trolley to the Wharf from the East and West Garage daily. MST Trolley details click here.
(MORE DETAILS ABOUT MANY GREAT NEARBY LOCAL EVENTS BELOW LISTED BY EVENT DATE)
BE SURE TO SAVE THE DATE FOR THE 10TH ANNUAL WHALEFEST MONTEREY ON JANUARY 25 & 26, 2020. DETAILS BELOW.
ARE YOU LOCAL & LIVING IN MONTEREY COUNTY?
2 HOURS FREE PARKING FOR LOCALS MONDAY-THURSDAY WITH MONTEREY COUNTY ID.
COURTESY OF THE CITY OF MONTEREY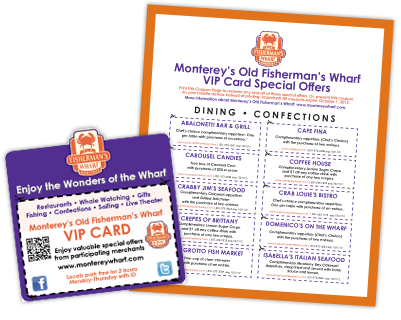 DOWNLOAD OUR "WONDERS OF THE WHARF VIP CARD" BEFORE YOU VISIT MONTEREY'S OLD FISHERMAN'S WHARF AND ENJOY 23 SPECIAL MERCHANT OFFERS!
MANY UPCOMING EVENTS ON MONTEREY'S OLD FISHERMAN'S WHARF